A friend recently told me I should blog again. Even after all this time of being a lame non-creative-in-my-free-time person, she still checked this old blog to see if there were updates.
So here's what I did. I found myself with a free night. I logged into my old pandora account (pre-baby, pre-marriage, pre-real life, pre-nonblogginess). The tunes from the good ol' days of blogging are cranking from my laptop's average speakers. And, guess what??
I'm back!....for anyone still out there. Apparently blogging more was one of my new years resolutions. Last year. Hmph. Sorry about that folks. My bad. My very very bad.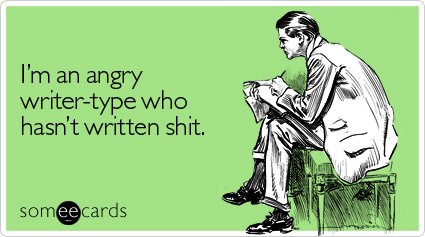 So what does this mean? For starters it means I need to start being cool again and letting the world inspire me. It means I need to stop focusing on the mundane day-to-day of my life and seek out the unusual. It means I need to try new foods, meet new people, listen to new music, discover new art, redefine what art means to me, redefine what I mean to me..and somehow amidst all that...make blog posts that don't suck.
Though that's a bit ambitious. I'll aim for roughly a 66% non-suckage rate on my posts. I'm a realist these days.
Stay tuned. Shit's about to get real.